Amazing service and guides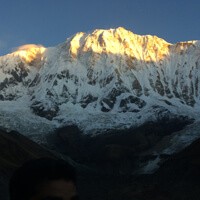 Himalayan Trekker 1997
December 03, 2014
I went trekking twice with this company: once to the Annapurna Base Camp and once to Poon Hill. Krishna, the owner, is very gracious, hospitable and willing to talk through options with each group. He can tailor the trek to your group's particular needs. They are reasonably priced and it is well worth the care you receive.
I have interacted with many trekking offices and find this office superior for the following reasons:
Personalized attention and care: I sat in the office for 2 hours planning my trek while drinking a cup of Nepali chiya (tea).
Attention to detail-everything is included and taken care of. You can trek free of worry about meals or where you will stay.
Superior guides: I had Netra as a guide both times. He is gentle, kind and encouraging. I have never heard him complain. He is accurate and honest on how much time is left to arrive at a certain point and the difficulty level of the terrain. I cannot tell you enough how much this helps you emotionally while you are trekking.
The experience level of the staff: Their guides and staff are experienced and truly care about the well-being of their clients.
You will not regret going on a trek or arranging travel through Global Adventure!