The 11-day Upper Mustang Overland Tour is an isolated tour in Nepal Himalaya and is popular for ultimate tourist overland activities becoming popular among the tourist things to do in Nepal. Upper Mustang known as Lo Manthang is the most preserved Kingdom between Dhaulagiri I (8156 m) and Annapurna I (8,091 M). Upper Mustang is like a barren land and a rain shadow area of Nepal in the Annapurna region.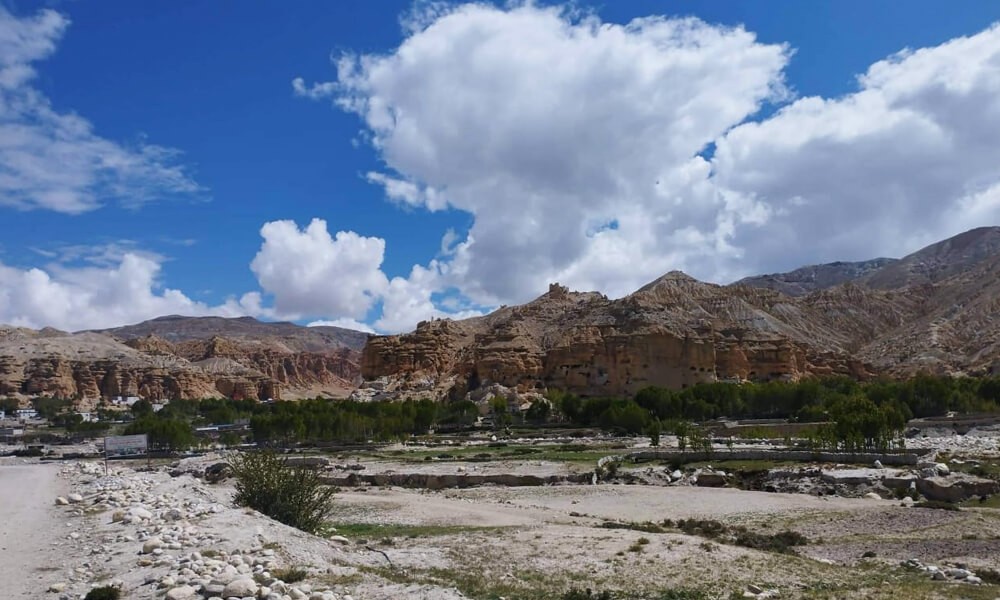 The Upper Mustang overland tour follows the Kaligandaki Gorge (the deepest gorge in the world) to Kagbeni by jeep. Along the way, we pass Tatopani-Natural Hot Spring, Marpha Village- "The apple garden" Kagbeni-the religious pilgrimage, and enter into the Lo-Manthang. The Lomanthang is a windy valley that blows from the south toward the Tibetan border. The majority of the people believe in Tibetan Buddhism speak the semi-Tibetan language and practice the same culture as Tibetan. Life in Mustang revolves around tourism, animal husbandry, and trade. Kagbeni is the starting and ending point of the Upper Mustang restricted area trekking and tour. Upper Mustang is also a part of the Annapurna Circuit situated in the northern part of Jomsom (65km) towards the Tibetan border.
Road Trip to Upper Mustang
The road trip to Upper Mustang is safe and well-paved in most places. It is just 60 km from Kagbeni to Lo-Mangthang. Along the way, you may experience the manmade sky cave, Monastery, Chortens, and Mani wall. Sometimes you can make a side trip by walking for the best viewpoint and Monastery. There is a local jeep service sometimes to Lo Manthang but it is overcrowded, risky, unsafe, and may not be available all the time. So it is recommended to have a private jeep for your safe and comfortable journey. While you are taking a private jeep tour, you have an opportunity to visit all the recommended places in this secret valley.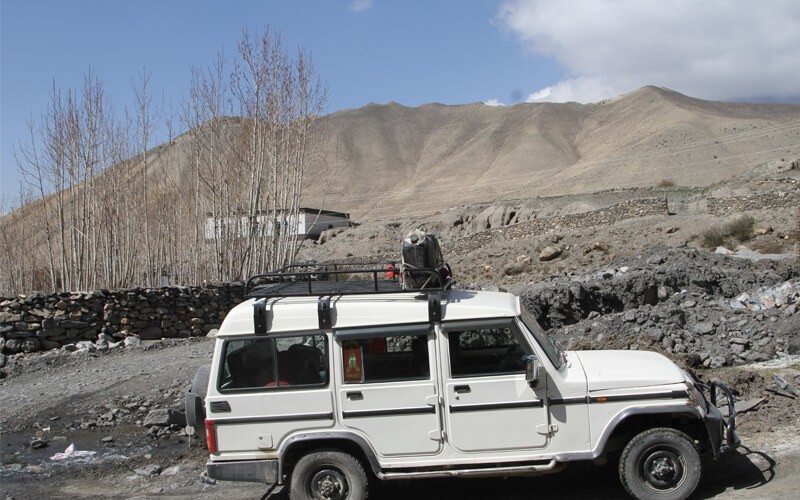 The Upper Mustang overland tour starts from Kathmandu with a private jeep drive to Pokhara and up to Lo-Manthang. After a deep study of our expertise, we kindly suggest and propose you take a jeep drive from Kathmandu throughout the trips and avoid the flight disturbance from Jomsom to Pokhara and vice versa. The road distance from Kathmandu to Pokhara is 200 KM, Pokhara to Jomsom is 155 km, and Jomsom to Lomanthang is 60 km. It is a pleasant drive with beautiful scenery of the Mountain range with diverse landscapes. You will be driving very little distance every day, but you will be spending more time exploring the villages and monasteries in each place. Please see the below day-to-day tour itinerary and feel free to write back with your thoughts you may have. Optional you can fly in and out from Jomsom to make your trip shorter.
Accommodation and food while on the Upper Mustang Tour
The Upper Mustang trek accommodation throughout our trek is in tourist standard and comfortable lodges which are run by local families. Each lodge has a central common area with a large wood stove that provides heat and a cozy atmosphere. The bedrooms are unheated and generally have two beds with mattresses, pillows, and a blanket. You will need to bring a sleeping bag (3 seasons is fine)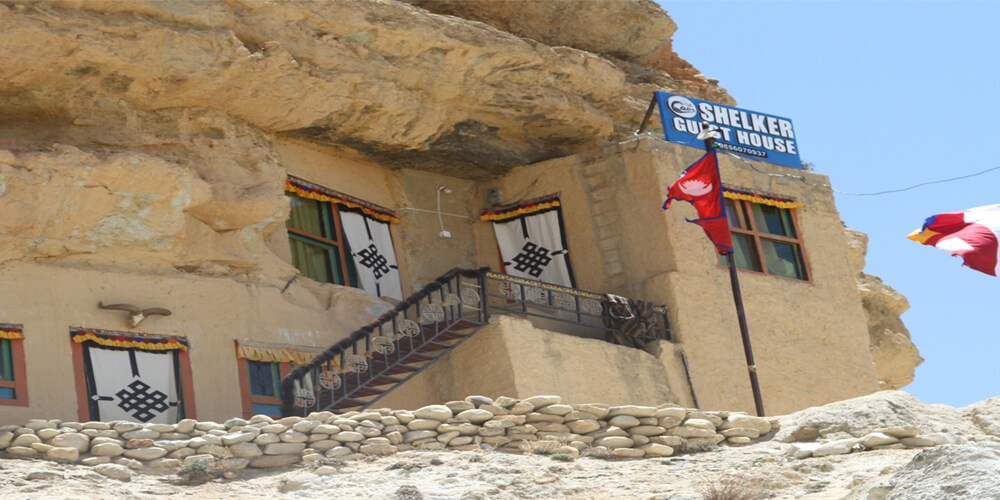 The lodges mostly have showers that are powered by gas/electricity and they mostly have western toilets (some lodges do also have squat toilets). Food on the Upper Mustang trek is very good quality and a mixture of local Nepali / Tibetan and Western food. The common, tasty local meal is Dal Bhat with rice, lentil soup, vegetables, Papad, pickle, and vegetable curry.
Hotel in Kathmandu and Pokhara- there is a huge selection of hotels but our package includes two-star standard accommodation in Kathmandu and Pokhara. The hotel we offer on our program comprises a clean, array, with hot and cold showers, TV, and Telephone, and is centrally located. If you would like to upgrade the hotel in Kathmandu and Pokhara is also possible for an additional cost. Please kindly let us know.
Places to visit while in Upper Mustang
Monastery Details of Upper Mustang that you will visit while on the trip.
1. Chungsi Cave Monastery Near Syanmochen/Samar
The sector of Buddhism: Ningmapa
Major Statues/Images: Tara Devi, Statue of Guru Rinpoche, Jhoao Chasapani
Remark: "Chhevum Bhumba"(Stone and soil structure increasing itself)
2. Tashi Chyoling Gompa,Ghiling
The sector of Buddhism: Ngorpa sub-sect of Sakyapa sect
Established Date/Old: 571 years old
Major Monastic rituals: Molam, Mandala Puja, Ketor Puja, Dhukpa Chesi, Kangso Chyachchha, Kangso Puja ets
Major Statues/Images: Sakyamuni, Jhampa, NgorChen, Padma Samabhawa, Chhepame, Dalai Lama, Lhobo Khenjen (Ghhenchen)
Major Religious books: Ghetongma, Kangyur, Ketatangi, Tangka, Sakya Kabub, and Lhamed among them some are in gold script
Remark: Founded by "Lhobo Ghenchen Lama"
3. Lo Geme Shad Drup Darkeling Gompa, Ghami
The sector of Buddhism: Sakyapa sect
Established Date/Old: 1414 AD (590 years old)
Major Monastic rituals: Heverja, Khyuri Dhunmje, Mela
Major Statues/Images: Buddha Pravamandal 2'6" high, Bajra Satwa 2'3" high, Buddha Statue 2'9"high, Ngor Chhen Kunga Sangpo, Sakyamuni, Dorjesemba, Midhukpa
Major Religious books: Sakya Kabum-03, Ghetangma-03, Lhamde-10, Kengyur-103, Tengyur-215
Remark: Founded by Sonoma Lodo
4. Jhampa Gompa, Lomanthang
The sector of Buddhism: Sakya sect
Established Date/Old: 1387 AD
Major Monastic rituals: Molam Chhyang, Ngyugne
Major Statues/Images: Jhamapa Chhempo, Rhikpa Jampa, Dharma Birwa, Lhamu Hoser Chenge Singham
Remark: Gompa houses tp Gold painted tantric Mandalas
5. Thupchen Gompa, Lomanthang
The sector of Buddhism: Sakyapa sect
Established Date/Old: 15th century
Major Statues/Images: Thupchen, Namgyal Chhorten, Chen Tejik, Jampalyang Gurun Rinpoche, Dhristrarastra, Baishnawan, Birudhak Birupaksya
Remark: The Hude wooden beams in Dukhang carry the Buddhist mantra inside the Gompa
6. Chhyode Gompa, Lomanthang
The sector of Buddhism: Sakyapa sect
Established Date/Old: 1757 AD
Major Monastic rituals: Tenchi, Saka Dhawa, Lolam, Bayang Yaarne, Lhabap, Duchhen
Major Statues/Images: Dorje Sonnu, Dorje Dhhang, Sange Thukpa
Remark: Thompa houses of beautiful Thanka and Images
7. Chhujung Gompa, near to Lomanthang
The sector of Buddhism: Sakyapa sect
8. Garghu Dhejing Chhyoling Gompa, Garphu, Chhoser
The sector of Buddhism: Ningmapa sect of Sakyapa
Established Date/Old: 500 years old
Major Monastic rituals: Chyuchi Ngyugne, Mahakala Puj, Hyum, Kengyur, Tengyur, Ghyutor, Chhempo
Major Statues/Images: Guru Rinpochhe, Dhorje Chhyang, Chhewang Lhindu, Siiji Shhyamjo
Major Religious books: Rinjin Dhorje, Kathang Dherng, Kathang Sanlingma
Remark: The footprint of Guru Rinpoche on stone
9. Nyiphuk Namdol Norbuling Gompa, Nyiphuk, Chhoser
The sector of Buddhism: Ngorpa sub-Sector of Sakyapa
Established Date/Old: 600 years old
Major Monastic rituals: Saka Dhawa, Ketor Dhinchhu, Dhukpa Chhesi, Mahakala Puja
Major Statues/Images: Dhorje Chhyang, Sakyamuni, and Lo Khenchen Sonam Lindup
Major Religious books: Ghetongba, Todsum, Dhomang, Khaj yuk Vembu, Lo Khejen Sonam Lhindup