Circle around the shadows of Mt. Manaslu 8th highest Mountain in the world. Experience the intermingling of Tibetan culture with local Gurung tribes while trekking in the Manaslu circuit.
Mt. Manaslu Circuit Trek is often regarded as one of the best treks in Nepal Himalaya. It is a great alternative trek to the Annapurna Circuit trek. It starts from Mache Khola and ends at Dharapani or Besi Sahar. Manaslu trek makes a complete circuit of Mt. Manaslu (8,163 m), the eighth-highest mountain in the world providing some jaw-dropping Himalayan views. The major highlights of this trek are the visit to Manaslu Base Camp (4,800 m), Sama Village, Birendra Lake or Phungen, and the crossing of Larke La pass (5,106 m). Along the trekking path, you will have spectacular views of Mt. Manaslu, Ganesh Himal, Shringi Himal, and Himlung Mountain. Planning a solo group joining or a private family trip to Manaslu? We guarantee 100% Satisfaction and safety!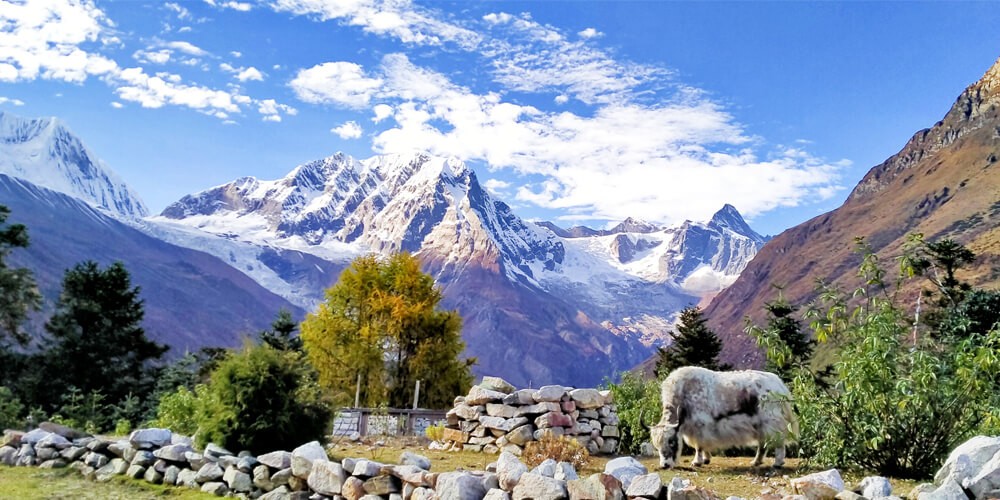 Difficult level of the Manaslu Circuit Trek
It is a moderate difficulty level in high terrain. While on this trek one can experience the intermingling of a century of old tradition with newly introduced Buddhism. The trail moves up along the Budhi Gandaki River passing through rolling green hills, valleys, villages, and terraced farm fields. The trail passes through Manaslu Conservation Area which has successfully promoted eco-tourism by preserving wildlife and ecological biodiversity. In the higher elevation, the landscape changes from green forests to dry to arid geography. The people here are Tibetans and follow Tibetan Buddhism visible on Mani walls, Chortens, and Stupa. The clean and standard type of tea houses is available along the trek. Extending a trip to Tsum Valley is an ideal plan to experience the spiritual sites of Tsum Valley. Manaslu Trekking is rated moderate to strenuous, thus making it suitable for all physical levels of trekkers. We proposed the best suitable trek itinerary, trek map, and the Manaslu circuit trek at the lowest cost with a highly experienced trek leader.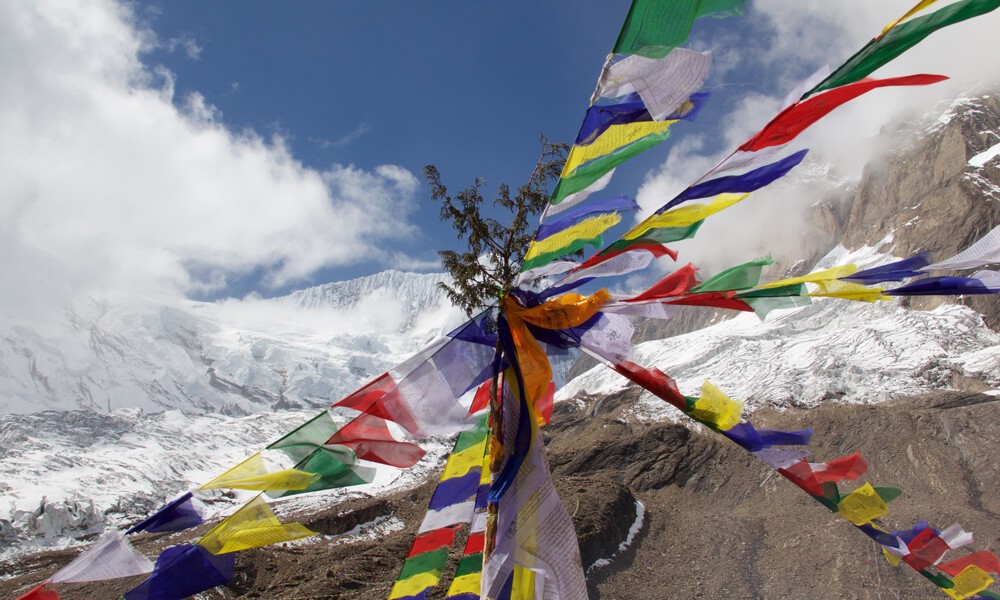 Places to visit while Manaslu Circuit
Tsum Valley with Mu Gumpa: Tsum Valley is a newly opened area bordering Tibet and the lifestyle and culture are very similar to Tibetan. Tourism, husbandry work, agro-farming, and Monastery life are the main occupations in the region.
Serang Gompa (3100m): Known as Nubri Gumba lies Tsum above the Bhi village. It is a meditation monastery bordering Tibet a refugee has existed for more than 500 years in this high-altitude southern slop.
Kal Tal, meaning 'Death Lake' (3600m.): The detour to Kal Tal is 4 hours of walking above the Prok village. This is a scenic place to view the diverse landscape and is religiously significant.
Hang Gompa and Himalchuli Base Camp (4020m): It is a beautiful monastery from Bihi. Walk for about one hour and reach the monastery in the meadows of pine forest.
Phungen Gompa (Around 4050m/11316ft.): You may take a detour from Shyalla or Sama Gaon. This is the most scenic and picturesque place in the Manaslu Base Camp trekking region.
Birendra Tal (3450m/ 11316ft.): This is a high-altitude freshwater turquoise lake fed by glaciers. It is one one-hour walk from Sama Gaon. You may try to swim or wash your feet.
Manaslu Base Camp (4900m/16072ft.): The base for the Manaslu expedition patches its tent and stays for acclimatization. It is a 4-hour walk from Sama Gaon through the steep slope. The views are extraordinary of the lake, glacier, landscape, and vegetation.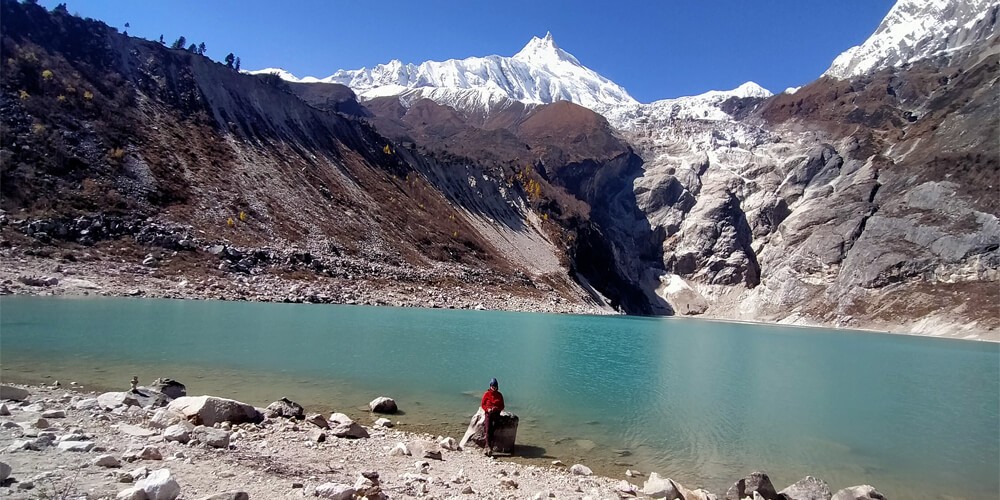 What to expect in the Manaslu Circuit Trek?
Manaslu trek offers the opportunity of taking an expedition on Mt. Manaslu and Larke peak and grants the possibility of exploring the Monastery, Stupa, and century-old culture. Manaslu Circuit trekking offers a great view from Larke Pass (5,106 m) into the Himalayan vista. Our 13-day trekking itinerary is outlined so we are happy to follow your suggestion if you may have your own. For the customized trek please contact us. After crossing Larke La the path meets with the world-famous Annapurna Circuit trek in Dharapani. While on the Manaslu round trek, people can experience the six climatic zones. The tropical climate zone lies below 1000m, the sub-tropical zone (1000m-2000m), Temperate zone (2000m-3000m), Sub Alpine zone (3000m-4000m), Alpine zone between 4000m to 5000m is mostly open meadows and the Artic climatic zone lies at an elevation above 4500 and above the snow line is at about 5000m. The best season for Manaslu trekking is March to May and October to early December. The winter season is December to February the temperature falls down to -15 degrees centigrade. June to August is the monsoon season occurs much rainfall and landslides.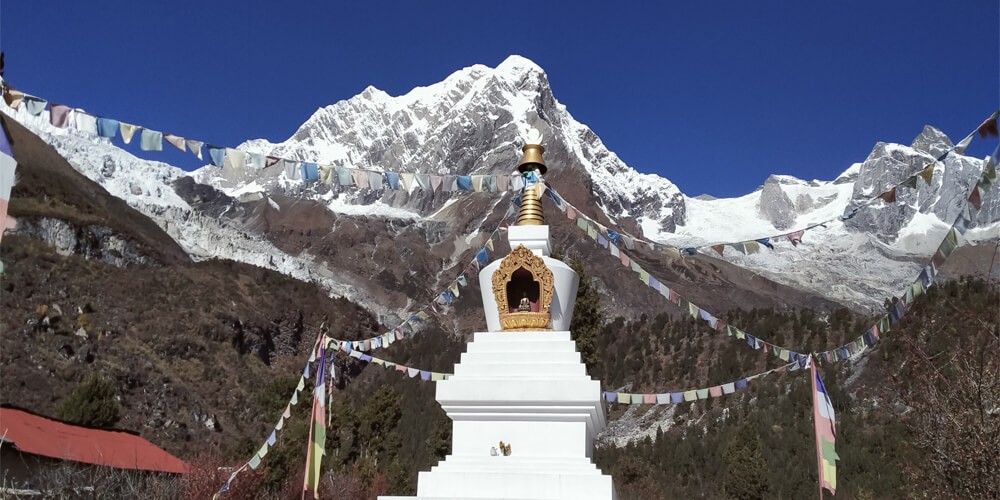 Required Permits and fees for Manaslu Circuit Trek
Mt. Manaslu lies in the Conservation Area of Manaslu in the northwest of Kathmandu. It is a restricted area bordering with Tibetan Autonomous Region of China. All trekkers should organize a trek through a registered trekking company to access this trek route. Solo trekkers are not allowed where minimum group sizes of two people are required. Manaslu Restricted Area Permit, Manaslu Conservation Entry Permit, and Annapurna Conservation Entry Permit are necessary permits for the Manaslu Circuit trek.
Manaslu Trekking Temperature/Weather
Recommended months for Manaslu Circuit Trek are March, April, May, and September, October and November are recognized as the best times of the year. However, the weather and temperature are unpredictable. March to May and September to Early December a highly recommended months for trekking and hiking, temperature ranges from 6 to 12 degrees centigrade. Jun to August (18 to 6 degrees centigrade) is too rainy and wet causing floods and landslides and December to February is -15 degrees centigrade with a lot of snow, too cold and dangerous for high pass trek.
How to book my Manaslu Circuit Trip?
Booking a trip to Manaslu is very easy and simple. Follow the given link fill up the details and submit it. As soon as submit the forms you will get the electronic invoice and within 24 hours Global Adventure will send you the trip confirmation voucher.
Manaslu Circuit Trek is our top-selling trip in Nepal, Global Adventure offers the best 15-day itinerary to Manaslu Trek from arrival to departure. Take maximum satisfaction at the lowest cost the booking is open for 2023 and 2024.