Everest Base Camp with GAT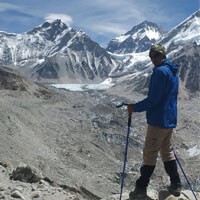 Shaiphyrnai D.Phanrang
April 19, 2019
GLOBAL ADVENTURE TREKKING COMPANY, I had a great time a right from my flight landed in Kathmandu to the transfer to flight back to the airport. you are not just running a company but you are building relationships and lives altogether. first and foremost, it is the trust that we have in you and likewise you in us. your Guide Mr. Nirmal Gurung is a very active and spirited guide. he knows all ins and outs...
after showing pictures to my friends and families......they are also wanting to do EBC, and I'm so sure you will make it for them..just the same for us.
our flight was canceled due to bad weather, but your company made it comfortable for us by arranging a helicopter....that was just WOW..over the top...on that instant
all the best in your continuance to being good service to all.
love from Shillong, Meghalaya, India.