Fantastic Trekking Company!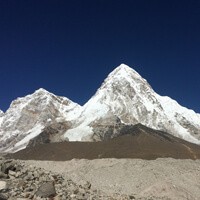 Lauren M
October 10, 2014
I highly recommend Global Adventure Trekking. After being inundated by guides and companies in Kathmandu, our hotel, hotel Florid, recommended we speak to a rep from this company. We were initially skeptical but felt extremely comfortable with them immediately. The manager, Krishna, spent over 2 hours with us, talking through our options, recommending gear, discussing ways that our group could split from each other and do slightly different treks while not paying more money, etc. We told him right off the bat that we were budget travelers, and he was very accommodating to this. Throughout the 2 hours + meeting, we were never once got the high-pressure sale to go with this company, but we are super glad we decided to.

In addition to the Kathmandu service being excellent, our Kumbu guides/porter(D.K. and L.K ... officially named Dukumar and Lakumar) were phenomenal. They were knowledgeable, super friendly, patient, safety conscious, good English speakers, etc. ... basically everything you'd want in a high altitude trekking guide. If you get the chance, I'd highly recommend asking specifically for them.

Overall, this company was great ... service was phenomenal (Krishna even called me from Kathmandu after the flight to Lukla because he knew I was nervous about it). If you're doing any sort of trekking/adventure touring in the region, they're a fantastic choice!