Two Weeks in Nepal, trekking and all that,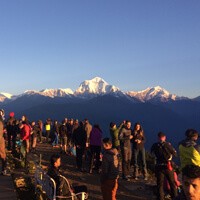 Noorat Basil
March 11, 2014
A friend recommended the Global Adventure Trekking Company to get a kick start on trekking in Nepal. My wife and are either side of 60, so we were after nothing too strenuous, so after a city tour of KTM and environs doing all the touristy spots we flew to Pokhara, our choice instead of the bus ride, settled there to acclimatize and began our Poon Hill Trek of 6 days arranged with Krishna from Global Adventure Trekking.
Well, we were so pleased with the itinerary, as it catered for our needs and ability. We had an excellent guide, Deep, who was most knowledgable on trekking, knew how to direct us in doing the trek and besides he was a top bloke. We played cards every night, a Nepalese game and I showed them a few card tricks myself, we certainly entertained other trekkers. Deep outlined the next day's trek and always managed to teach us about the flora and fauna and the peoples of Nepal. Our conversations were many and varied and we came away feeling we learned so much about Nepal. Most importantly we had a guide, Sembu, and we are so pleased we did. Yes, we could have carried only a day pack, but Sembu was so interesting, telling us about his family, and he was always so patient with us. If there was a problem with any in the trekking party, for example, an illness or heaven forbid, an accident, it would be wise to have a second person from the company with you. Yes you can do all of this yourself, but the cost is so economical, that you would be mad not to go with a tour company, reputable and licensed.
So to Krishna at Global Trekking and our guide Deep and porter Shambhu and to Keshab, who a friend had trekked with 20 years ago, we say thank you. It gives you confidence when you trek with a company that caters for your needs, and personalizes the trek for you and wants you, the customer, to leave Nepal on a positive note. To this end, Global Adventure Trekking is and will continue to be successful. We left Pokhara and bussed to Chitwan for 3 days and did the standard activities ether, whichever we enjoyed, however, rhinos were a scarcity, but we had fun then back to KTM, tea with Deep, Keshab, and Krishna, and then fly back home. Back again in December to see Everest and another hike hopefully.